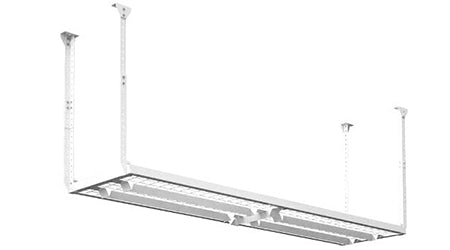 2' x 8' Overhead Garage Storage Rack
Regular price $310.06 $288.36 Sale
FREE Shipping With Cabinet Order* 
NOTE: This item can only be purchased with your cabinet order. It cannot be shipped separately.
We offer an overhead storage rack that will fit into tight areas in any garage that can give it a two foot space. The 2' x 8' rack can easily store 300 evenly distributed pounds of weight.
The overhead rack has a floating rail system making it fast and easy to install the solution on any ceiling (even pitched ones). Down rod supports will adjust in height from 24" up to 44" and can be installed anywhere along the 2' or 8' frame rails.
This solution is great for clearing up Work Space storage cabinet and slat wall system space of large, bulky items; things that are not used often; or even dozens of plastic storage totes.
Are you piecing together a unique Work Space configuration using the individual cabinets? We can show you a 3D layout of what those cabinets will look like together during an Online Design consult. Schedule a time for your consult today!
**Note: Assembly and installation required.