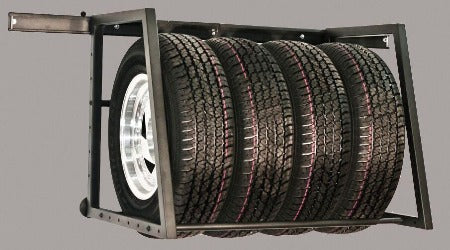 Tire Storage Adjustable Rack
Regular price $273.95 $237.15 Sale
May Qualify for FREE Shipping* 
Store auto, truck, seasonal, recreational, ATV, race, and any other type of tire or wheel on a wall in your garage with this Adjustable Tire Rack. The tire rack is made of steel durable, strong steel.
It is easily installed with a rail system that attaches to the wall. The chrome support frames will then be able to slide left and right even after installation. You can store tires and wheels of varying sizes by adjusting the width and depth of the chrome telescopic tubes. The width is adjustable from 34" to 58" and the tire rack is capable of holding up to 400 LBS of weight.
Get that set of winter tires off the floor and on the wall with this heavy duty adjustable tire rack. Adding this solution to your Work Space configuration and slat wall system will give you a truly complete organization system.
*When you buy $750 worth of slatwall panels and / or garage cabinets
**Note: Assembly and installation required.