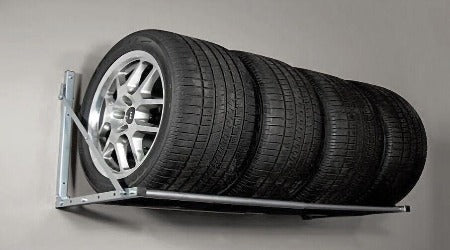 Tire Storage Folding Rack
Regular price $83.55 $79.24 Sale
May Qualify for FREE Shipping* 
Install the durable and flexible Folding Tire Rack to get spare, seasonal, RV, ATV, and a variety of other tires and wheels stored on the wall and off the floor.
The tire rack is made completely of a strong steel tubing that is quite durable. You will be able to store up to 300 LBS. of tire on the storage solution. This particular rack folds up against the wall when it is not being used; and can be mounted at widths from 32" up to 48".
You can store extra tires and wheels on the wall using the Folding Tire Rack and conveniently fold it away when it is not in use. It will be a great addition to your Work Space storage cabinets and slat wall system.
*When you buy $750 worth of slatwall panels and / or garage cabinets
**Note: Assembly and installation required.