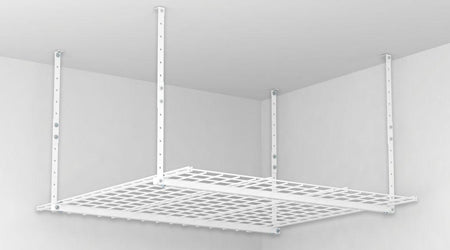 4' x 4' Overhead Garage Storage Rack
Regular price $402.84 $335.70 Sale
Take advantage of the most underused space in your garage with the 4' x 4' overhead storage rack. You can store up to 250 LBS. of weight evenly distributed with this storage solution. So large and bulky items, seasonal decorations, coolers, seasonal sports gear, luggage, camping equipment, and a number of other items can be safely stored out of the way when hanging from the ceiling in your garage!
The 4' x 4' rack will be an excellent addition to any complete storage solution. Having rarely used and bulky items stored overhead frees up space in your Work Space storage cabinets and slat wall system for practical, useful things you might need access to more often. The overhead rack also offers adjustable downrods for changing heights from 16" up to 28".
Have you added a pre-designed Work Space configuration or individual cabinets to your shopping cart yet? We would be happy to help you design a custom Work Space system during an Online Design consult. One of our experienced project managers will work with you to design a complete solution that fits your needs. The end result is a 3D layout of what your system will look like and confidence knowing that everything you need to store in the garage has a planned place in your new solution. Schedule a time for your Online Design today!
*When you buy $750 worth of slatwall panels and / or garage cabinets
**Note: Assembly and installation required.