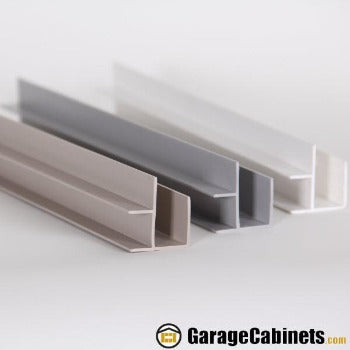 90" SlatWall Inside / Outside Corner Trim Molding
Regular price $18.01 $16.95 Sale
Trim pieces are available and used to give your new slat wall a more finished, professional look. The trim moldings and caps that we offer are extrusion parts and are available in all eight of the slat wall panel colors. And just like those panels, our trim is made in the USA.
This Inside/Outside Corner Trim is used to give a finished look to slat wall pieces that join together at a wall corner. Your storage solution doesn't have to stop just because there is a corner. Using this trim, you can take advantage of all your wall space. And it only takes one piece of trim to connect both of the slat wall panels.
Once you get your slat wall is hung on the wall with all the trimmings, it would be handy to have some accessories to hang up as well. Shop our inventory of baskets, hooks, and specialty accessories to find a solution for storing a variety of items. You can buy items individually or just grab one of the accessory kits we offer. Slat wall panels and accessories will complement your Work Space slatwall accessories and trim configuration perfectly. And if you need help piecing together your custom solution, we can help you with that too through an Online Design consultation.
*When you buy $750 worth of garage cabinets or slatwall panels and trim
**Note: Assembly and installation required.