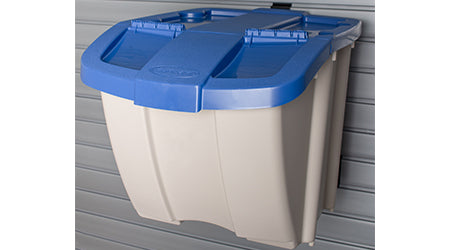 Recycling Center SlatWall Accessory
Regular price $120.55 $108.50 Sale
Keep the garage neat and tidy with this Recycle Center slat wall accessory. The Recycle Center is taupe with blue lids with two bin areas. It is an excellent complement to a Work Space Trash Bin Pullout Cabinet that is a part of a larger Work Space storage cabinets configuration. Properly dispose of plastic bottles, glass, aluminum cans, and paper in the stylish, yet functional Recycle Bin slat wall accessory.
You can continue picking out individual slat wall accessories or combine the Recycle Center with an accessory kit. Together with slat wall panels, any other slat wall accessories you select, and Work Space cabinets, the Recycle Center will help keep your garage organized for years to come! Have you picked out one of the pre-designed Work Space configurations or created your own system from individual cabinets yet? We can help you create a design for a custom solution using the individual cabinets. Learn more about our Online Design consults here.
 INCLUDES 2 BINS
*When you buy $100 worth of slatwall accessories
**Note: Installation required.