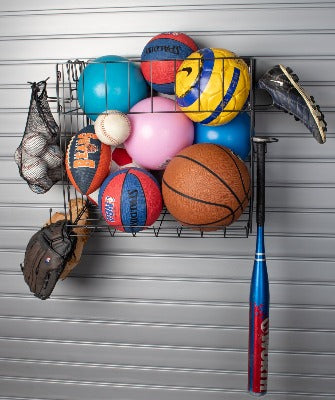 Sports Equipment Rack SlatWall Accessory
Regular price $69.54 $62.59 Sale
If your garage is overwhelmed and cluttered with sports balls, gear, and equipment, it needs the slat wall Sports Accessory Rack. This steel powder coated rack can organize most (if not all) of your sports equipment collection and provide easy access to the items.
The rack is built to store sports balls in a variety of sizes; as well as bats, gloves, sticks, skates, ropes, or just about any other piece of equipment you can come up with using its various hooks and the basket. The Sports Accessory Rack is locked into a slat wall panel that hangs conveniently from the wall, keeping items easily accessible to anyone, yet stored and organized. It is an accessory no sports players' garage should be without!
Add the Sports Accessory Rack as an enhancement to any one of the accessory kits we offer for a full slat wall system complete with a variety of baskets and hooks. Then finish off your new storage solution with a Work Space storage cabinet configuration. Choose from a number of pre-designed Work Space configurations or use individual cabinets to piece together your own custom configuration. We have project managers available to assist you with creating a 3D layout using individual cabinets. An Online Design consult connects you with a professional storage system designer who will help you create your custom solution.
*When you buy $100 worth of slatwall accessories
**Note: Installation required.